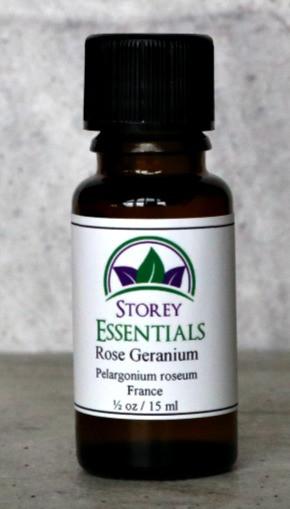 Rose Geranium
Our Rose Geranium Essential Oil (Pelargonium roseum) from France has a lovely floral-herbal aroma with rose notes which is both uplifting and calming. Like the other geraniums, Rose geranium is a balancing oil, helping to lift us out of negativity, relax us if we're under stress, or invigorate us if we're feeling low in energy.

An astringent oil, rose geranium essential oil is excellent for all skin types and is used in skin care products for both its fragrance and cleansing properties.

One or two drops applied weekly to a dog's collar is said to be very effective at deterring ticks. It works for humans too.  Before you venture out simply place one drop on each ankle, a drop on each wrist, a drop behind each knee and one on the back of your neck. If you prefer you can put the oil onto your clothing instead of your skin.
Blends Well With: Basil, bergamot, carrot seed, cedarwood, citronella, clary sage, grapefruit, jasmine, lavender, lime, neroli, orange and rosemary essential oils.