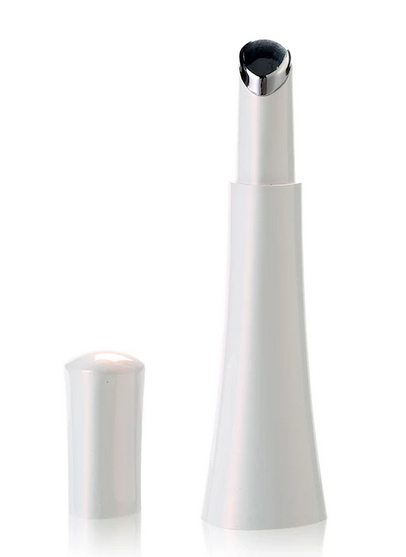 Eye & Lip Sonic Vibration Heat Therapy Massager Wand
A compact yet powerful eye and lip massaging beauty tool used to get rid of puffy eyes, dark circles and lip lines, while also reducing the appearance of crow's feet and fine lines.
Eye & Lip Massager Features:

 
Sonic Vibration Eye/Lips Massage

Heated 42℃ Warm Treatment

Elevation Designed Massage Head

Integrated & Portable Design
Heat Therapy:
Heated treatment stimulates skin cells through massage, locks in moisture, improves blood circulation and revives eyes fatigue. 
Put the Massage Head against the skin and move it gently in circular motion from the inner corner to the outer corner of the eyes.
My be used daily when putting on eye or lip cream for about 2 to 3 min, you can also use this without cream to relax your eyes after screen time.
Sonic Vibrating Massage
Vibrating Massage to stimulating your skin effectively absorb skin care products while massage, promote the blood circulation to relieve eye's fatigue and puffiness.
Relieves Dark Circles and Puffiness
Stimulate the production of collagen, and help to tighten your skin and boost its elasticity. Gentle massage can effectively reduce the dark circles and puffiness cause of stay up or sleepless. also help to detox, weaken and eliminate specks after long time using.
Enhance Eye Cream Absorption
Heated treatment help to open your pores and allows serums and creams to enter better. High frequency vibration maximum efficiency of your skin care products, rouse your skin cells' nutrient absorption powers.
Relieve Eyes Fatigue
Gentle massage can increases blood circulation, effectively relieve eyes fatigue, soothe sore muscles, soothe the skin sense of tension, reduce eyes redness, pain. Especially suitable for students or the people who have a long time facing the computer or stay up.
Heat Level (Please don't use the third level around the eyes area.)
1. 37℃ Booster mode: 37℃, which is similar to body temperature, vibration massage helps to absorb cosmetics and helps to make moist and shiny skin.
2.  39℃ Heating Mode: This mode helps open the pores(like warm steam towel) for deep cleansing, which improves the smoothness of the skin.
3. 42℃ Massage Mode: This mode is suitable for lymphatic drainage massage behind the ear and neck. Deep diathermy helps open lymphatic channels, relax micro-vessels and meridians, promote blood and lymph flow, eliminate heavy metals and toxins, improve blood circulation and promote skin cell renewal.
Specifications:
Battery Capacity: 500mAh
Charging Duration: 2 hours
Working Time: 2-5 hours
Vibration Frequency: 3200-6300 RPM